ADVISORS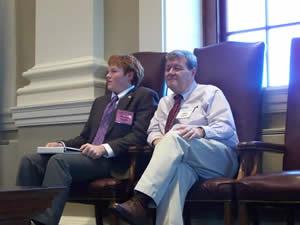 Advisor Responsibilities
A YMCA Youth and Government Advisor's job includes recruiting, training, and supervising high school youth to form a delegation including:
Act as liaison with the State YMCA of Maine Youth in Government Program Director and staff, and conveys problems, questions and/or concerns as may be necessary

Ensure that the Youth and Government Program and local YMCA policies are always adhered to.

Ensure that the Youth and Government Program Code of Conduct is understood and agreed to by all delegates and parents. In accepting this position each advisor also commits to this code.

Prepare delegates for their roles in Augusta.

Assist and prepare delegates to run for leadership positions.

Host at least one Training Session for their delegation online.

Assist participants in drafting bills, and endorsing all bills, that they pass the straight face test submitted from your delegation

Communicate regularly with club members and parents.

Submit your Hotel Room list by the deadline.

Assure that each delegate attends scheduled sessions.

Attend all advisor meetings and assist with general conference duties

Actively support the Youth and Government Program goals and objectives.

At Augusta Session help in the program by acting as (at least one of the following)
Media Advisor
Advisor to Youth Governor and Cabinet
Advise presiding officers in House or Senate
Committee Session Advisor
Program Timetable
| | |
| --- | --- |
| DATE | EVENT |
| Thursday September 1st | Online Registration Opens |
| Monday September 5th | Online Bill Submission Opens |
| Monday October 3rd | Welcome ZOOM |
| Tuesday October 18th | Caucus Session A |
| Monday October 24th | Caucus Session B |
| Friday October 28th | Bill Submission Deadline |
| Friday October 28th | Hotel Room Assignment Form Due |
| Friday November 4th | Program Fees Due |
| Thursday November 10th | Leadership Training Night |
| Friday Nov 11-Sun Nov 13 | Augusta Youth and Government Session |
Resources
Our Program Website---www.yiginme.org you will find all these forms there.
Participant Registration form
Bill Submission
Caucus Election Nomination Forms
Leadership Application Forms
Hotel Room Assignment Form