Job Descriptions
Overview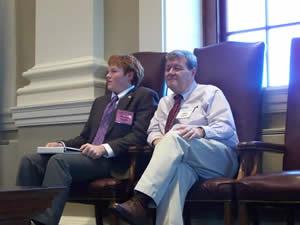 The most important element of Youth & Government is the Advisor. The success of the program is dependent on how well prepared an advisor is for his/her role. It is the advisor who has the daily relationship with the youth that is needed if Youth & Government is to achieve the stated goals, objectives and purposes. As a YIG Advisor, you will embark on a series of adventures that you may have never imagined, with people you never thought you'd meet, in places you'd never thought you'd go. And when you're done, you'll have memories that you'll cherish for a lifetime.
Online Registration Opens--Monday, August 20th
Bill Submission Opens--Saturday, September 1st
Caucus Session A---Thursday, October 11th
Caucus Session B---Wednesday, October 17th
Caucus Session C---Monday, October 22nd
Hotel Room Blocks---October 19th
Hotel Room Assignment –November 1st
Bill Submission Deadline—October 27th at noon
Fee and Forms into Office—November 3rd
Leadership Training Event –Thursday, November 8th
Youth in Government 2017---November 9-10-11, 2018
What are the essential qualities of an advisor?
Organized

Motivated to work with teens

Understanding

Flexible

Ability to enforce rules

Be willing to laugh at yourself

Values-oriented (especially the Y values of caring, honesty, respect, and responsibility)
Prerequisites of Advisors
Be at least 21 years of age (unless a written request for waiver has been submitted and approved by the Executive Director of the YMCA Youth & Government Program).

Be a mature, dependable and responsible individual.

Relate well to and enjoy working with high school age youth.

Have group facilitation experience or be willing to receive training in this area.

Be a positive role model to delegates and an effective representative of the program.

Be organized, attentive to detail, and have good follow-through skills.
Responsibilities
A YMCA Youth & Government Advisor's job includes recruiting, training, and supervising high school youth to form a delegation.
Receive, read and understand all program bulletins and assure all deadlines are met.

Ensure that the YIG program and local YMCA policies are adhered to at all times.

Ensure that the YIG Code of Conduct is understood and agreed to by all delegates and parents. In accepting this position each advisor also commits to this code.

Develop a schedule and meetings to plan special events/fundraiser's.

Prepare delegates for their roles in Augusta.

Work with delegates to develop a process for bill development and selection.

Host a Training Session for their delegation online.

Oversee club meetings and provides supervision at club activities.

Communicate regularly with club members and parents.

Act as liaison with the State YMCA of Maine Youth in Government Program Director and staff, and conveys problems, questions and/or concerns as may be necessary

Actively participates in or facilitates training activities on the local level

Promote the understanding and enforcement of the Code of Conduct.

Submit your Hotel Room list by the deadline.

Assure that each delegate attends scheduled sessions.

Attend all advisor meetings and assist with general conference duties

Actively support the YIG program goals and objectives.

At Augusta Session help in the program by acting as (at least one of the following)

Media Advison

Advisor to Youth Governor and Cabinet

Advise presiding officers in House or Senate

Committee Session Advisor

Stay in Hotel with the delegation, and do a knock on door bed check in each room where your participants are staying.
Behavior Supervisor
Preparing delegation on what to expect from the YMCA Youth In Government experience.

Helping the delegation to set standards of appropriate behavior so that they assume ownership of the standards.

Dealing with behavior problems within the delegation and rectifying them.

Accepting personal and delegation adherence to the Code of Conduct.
Administration Mechanics
Get your delegation registered online

Get your delegation bills submitted online

Get logged in for Training Session.

Travel plans to and from the State Conference weekend.
Administration Finances
Ensure that your delegation works out the program fees, and ensure that they are submitted on time.

Start installment plan for submission of fees/dues.
Advisors Code of Ethics
Advisors will refrain from using, possessing, or being under the influence of alcohol or illegal drugs during program activities is prohibited.

Advisors shall not abuse teens in any way including:

verbal abuse - humiliate, degrade, threaten; and

sexual abuse - inappropriate touching or sexual innuendos

Advisors treat equally teens of all races, religions, cultures, sexual orientation and economic levels, with respect and consideration.

Advisors use positive techniques or guidance, including redirection, the anticipation of and elimination of potential problems, positive reinforcement, and encouragement rather than competition, comparison, or criticism.

Advisors will abstain from humiliating or frightening techniques.

Advisors will not use profanity in the presence of teens or parents.

When working with teens, advisors must be free of conditions that might adversely affect another's health, including significant fever or contagious disease.

Advisors will portray a positive role model for teens by maintaining an attitude of respect, patience, courtesy, tact, and maturity.
Responsible To:
The person performing these services will be accountable to the Program Director of the Youth In Government Program.
It is the Policy of the Maine YMCA Youth In Government that in order to provide local Delegations with the best possible program and services,