Maine Youth in Government is a program that allows any High School student in Maine to participate in a program that allows a them hands on experience in how Maine's Legislative process works. There is no other program that gives students this type of opportunity
LIKE US ON FACEBOOK

DATES FOR THE 2016
YOUTH IN GOVERNMENT WEEKEND
NOVEMBER 11-12-13, 2016
2016 TIMELINE
October 24th Caucus Session # 2
October 26th Caucus Session # 3
October 29th Bill Submission Deadline
October 31st Hotel Room Assignment Deadline
November 4th Forms and Fees Deadline
November 10th Leadership Training Session
Bills Topics Submitted as of 10/23/16
| | | |
| --- | --- | --- |
| Emelia Nejezchleba | Gorham | Reform Seatbelt Laws |
| Rebecca Collins | Presque Isle High School | To Promote Gender Equality |
| Ed York | Kennebunk High School | To change the tax code for previously undeveloped parcels of land and developed land |
| Ed York | Kennebunk High School | Of preoviding more state aid to drug detox and rehabilitation centers |
| Joe Bergeon | Kennebunk High School | To reform sections of the Maine tax code and restructure the state budget process to allow for the preservation and allocation of current and future surpluses. |
| Mallory Burchill | Kennebunk High School | To Provide Incentives to Schools that go Organic |
| Abigail Raymond | The Maine School of Science and Mathematics | Adding a unit on mental health and coping mechanisms to the health curriculum for Maine high school students |
| Phoebe Fleck | Erskine Academy | The Protection of Maine's Forests |
| Harrison Mosher | Erskine Academy | Modifying Class Rank in Maine High Schools to Account more for Athletics, Clubs, and Out of School Activities. |
| Harrison Mosher | Erskine Academy | Banning all standardized testing in Maine high schools and replacing them with tests that better suite High school students. |
| Regan Bragg | Machias Memorial High School | Promoting School Readiness by means of Donating Additional Lottery Revenue |
| Wyatt Fowler | Bonny Eagle High School | The establishment of correctional labor camps to provide inmates valuable labor experience and to give inmates a constructive way to repay society by generating income for Maine. |
| Wyatt Fowler | Bonny Eagle High School | Establishing a cap on how much executive staff of businesses can earn per year |
| Sophie Burchill | Kennebunk High School | Solar Power in Maine |
| Jacob Cote | Presque isle high school | Increased Pay for Policer Officers in the State of Maine |
| Carol Smith | Machias Memorial High School | The Right to an Appropriate Education |
| Destiny Look | Machias Memorial High School | To have school begin no earlier than 9:00 a.m. And end at 3:30 p.m. |
CONGRATULATIONS TO THE
2016 YOUTH GOVERNOR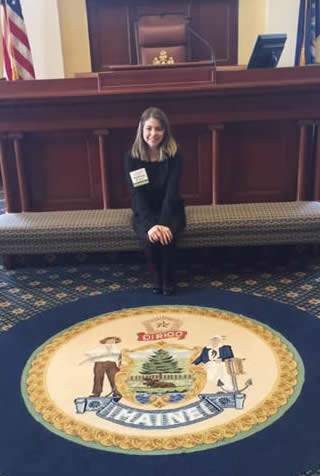 Message from 2016 Youth Governor Sydney McDonald
Hello, Youth in Government participants!
As many of you are aware, this year's Maine Youth in Government conference is rapidly approaching! I'm immensely excited to see the ideas and talents that each and every one of you will contribute. Online registration and bill submission are now open, so be sure to get yours in! I believe that this year's conference can be larger and more successful than ever before, and you are the largest part of making that happen, so be sure to get your friends involved, and get your registration submitted. I strongly encourage you to submit a bill on anything you feel that we can change, or that you are passionate about, as that's what makes this program a success.
In addition, I'm still accepting applications to be a part of the Governors' cabinet! Final selections will be made by September 15. If you're at all interested, please see the application form on the Maine Youth in Government website, and feel free to contact me with any questions.
I look forward to seeing everyone as we close in on November!
Best wishes,
Sydney McDonald
Maine Youth Governor 2016
Click here for Governor's Cabinet Application
CLICK HERE FOR 2015 BILL RESULTS
YOUTH GOVERNOR GRADY AT YOUTH
GOVERNOR'S CONFERENCE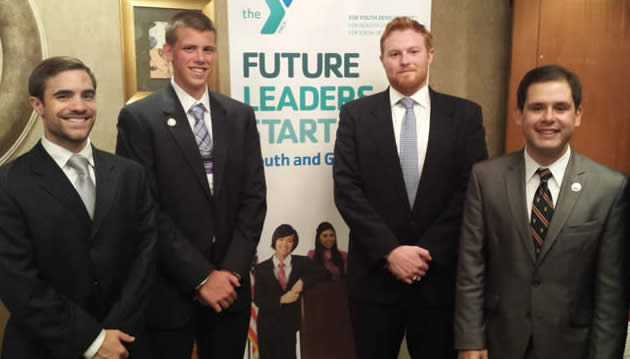 4 Maine Youth Governor's all from Kennebunk, Jay did go to Chevrus HS.
Jay Gobeil, Patrick Grady, Will Caddigan, and Ben Goodman