SECRETARY OF SENATE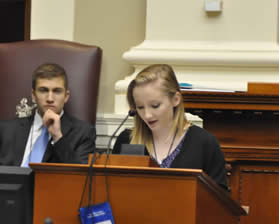 Description of Role
The Secretary are the recorders of all events in the Senate / House.

The Secretary will receive training into the mechanics of recording debate, but must have a clear understanding of parliamentary procedure, and be able to speak comfortably in front of a group.

The Secretary must be organized and be comfortable speaking in front of group.

They will manage all the bills as they come and go from the Senate.

They will work with the Governor's Chief of Staff in keeping track of all the bills.
Responsibilities
Record all motions on the Floor of the Senate.

Read all bills and amendments as requested by the President of the Senate.

Be the designated representative of the Senate to go and request that dignitaries come and speak to the Senate or Joint Session.
Attend the Leadership Session:
MUST ATTEND LEADERSHIP SESSION, information about the session will be mailed to you prior to the event.
Scripts or additional Information:
Please rehearse and become familiar with those parts for the Secretary.
We will do training on Thursday and Friday, but it is very important that you know your parts.
Click here for Secretary of the Senate Scripts