Senators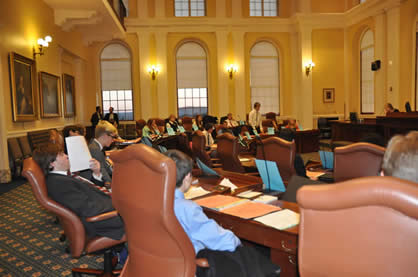 There are up to 34 members of the Senate. The Members of the Senate are the only people allowed to speaking on the floor of the Senate. They are acting as though they have been elected by a district in the State of Maine. Each member serves as a member of 1 of the Joint Standing Committees. The Senate is the Legislative Body with more experienced participants and smaller to allow more deliberative debate on issues.
REQUIREMENT
Be in attendance at your regional Training Session

Have 1 year experience having attended the Youth in Government Augusta session, or be Junior or Senior.
RESPONSIBILITIES
Serve as a member of a committee that will be assigned by YMCA Office.

Actively participate in the Public Hearings and Work Sessions of the Committee.

Actively participate in the debate on the floor of the Senate.

Take an active role in all votes that are taken on the floor of the Senate.
SELECTION
1. There will be up to 25 Senators at Large to be selected by delegations
2. Each delegation of 3 or more will get 1 Senator from the At Large pool
3. After all delegations have their Senator the largest delegations will recieve additional Senate seats.
4. Senator's at Large will be selected at the Final Caucus Session or within the next 24 hours.
Senators WILL NOT ATTEND the Leadership Training on Thursday.
Those senators that were elected, as Committee Chairs, will attend that Training Session