MEDIA CORRESPONDENT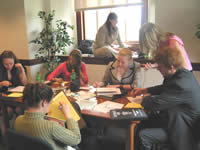 Description of Role
The Model Legislature Newspaper is designed to provide the participants with a laboratory experience in journalism skills; reporting, editing, distribution.

The paper is based upon the news surrounding the weekend.

The paper gives the participants a chance to voice opinions on bills and concerns about the actions of the Model Legislature.

All content for the newspaper must be approved by the Editor and the Adult Advisor to the paper.

The Newspaper is a great opportunity for those who enjoy writing and have some experience with school and local papers to make this weekend paper as professional as possible.
Responsibilities
Be assigned to cover specific stories by the editors

Share responsibilities of being on production staff in typing, copying and putting paper together.

Develop your own ideas for stories and articles.

Be prepared for Friday evening Press Conference with Governor at 7:00pm in Governor's Office

Be prepared for Saturday meetings ith the candidates for Governor

Use individual talents to make the paper a success and a vehicle for all participants to hear about other aspects of the program.

Coping and assembling each edition of the Newspaper

Publish at least two editions (Saturday PM), (Sunday AM)

Manage Twitter and Facebook information for the weekend

Develop a video for the program to be shown on Saturday night.
Attend the Leadership Session:
DOES NOT ATTEND LEADERSHIP TRAINING
Scripts or additional Information:
Check other sections for newspaper about ideas for correspondents