LOBBYIST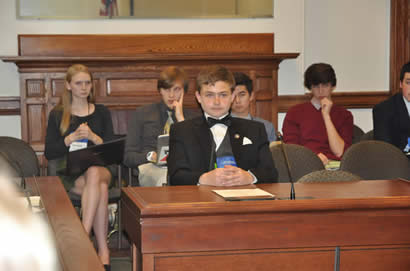 Overview of a Lobbyist
Lobbyists are sometimes called the "THIRD HOUSE", of the Legislature.

Their role is to see work for an organization that either support or is opposed to various pieces of legislation.

They serve a role of educating the members of legislature about the bill they are discussing.

None of the members of the Committees are able to be an expert on all the issues before them, so the lobbyist serve a purpose as a resource and expert in the area the bill is discussing.

Our Lobbyist serves an important part of the process by getting the public hearings going, by providing testimony on bills.

They testify at the public hearings either for or against bills that have been assigned to them.

They must select an organization they are working for as they give their testimony.

They then must take time to talk to various members to convince them to support their side of the bill.

Lobbyists in our program serve in a 3 roles during the weekend
a) Lobbyist during Public Hearings
b) Member of Committee during Work Sessions on Friday evening
c) Member of the House, on Saturday and Sunday
Description of Role
We will elect 3 lobbyists to work on 3 committees, the pairs will be

The 3 Lobbyist will meet at the Leadership Training Event to divide the bills up so that each bill will have a lobbyist to testify on them. One for the bill and one against the bill.

They will be assigned to a committee to serve on during the work sessions

They will be assigned a seat to serve as a member of the House of Representatives.
Responsibilities
Research bills that are assigned to you, this should be done prior to arriving in Augusta, to develop a 1-2 minute testimony on each of these bills.

Develop amendments that will support your position on the bill

Research what organization you will be representing in your testimony on each of these bills Influence other members who will support your opinion on bills and will speak for your side.

Time will be provided on Friday morning to do last minute research at the State Library.
Attend the Leadership Session:
MUST ATTEND LEADERSHIP SESSION, information about the session will be mailed to you prior to the event.
Scripts or additional Information:
Become familiar with CLICK HERE FOR TESTIFYING AT A PUBLIC HEARING