CABINET MEMBER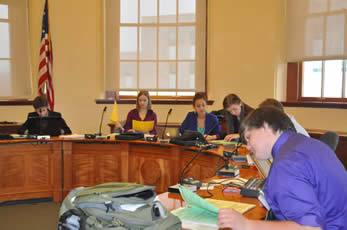 Description of Role
The Governor's Cabinet are the Commissioners of the various parts of State Government.

They work with the Governor to inform him about the bills that are before the various committees.

Assist in gathering information about what he should do when bills reach his desk.

There will be nine commissioner who will share the responsibilities for the 9 standing committees.

Cabinet members will be working with specific committees
Must be Sponsor of at least 1 bill that is in your area.
| | |
| --- | --- |
| Committee Name | Cabinet Member |
| Appropriations and Financial Affairs | State Treasurer |
| Criminal Justice and Public Safety | Attorney General |
| Education and Cultural Services | Commissioner of Education |
| Energy, Utilities, and Technology | Commissioner of Public Utilities |
| Health & Human Services | Commissioner of Human Services |
| Labor, Commerce, and Economic Development | Commissioner of Economic Development |
| Inland Fisheries and Wildlife and Agriculture | Commissioner of Fish and Wildlife |
| State and Local Government | Secretary of State |
| Transportation | Commissioner of Transportation |
Responsibilities
Sponsor at least 1 bill

Prepare testimony to be given in committee in support of the bills in the Governor's package.

Be familiar with Lobbying techniques as they lobby for Governor's package.

Advise the Governor on bills from their committee.

Work with the Governor to bring in bill sponsors, and supporters to advise the Governor on bills

Attend cabinet meetings to discuss the direction the Governor wants issues to go from his package.

Cabinet members are not able to vote in committee, or speak on the floor of the House/Senate, they must work to influence members to speak for them, and then vote in their favor.

They may ask the Sgt at Arms to have a member of House or Senate meet outside Chamber to have the member speak on behalf of Youth Governor. They may not speak on the floor of House or Senate

They may not take seats on floor of House or Senate
Attend the Leadership Session:
MUST ATTEND LEADERSHIP SESSION, information about the session will be mailed to you prior to the event.
Scripts or additional Information:
Review the section on Lobbying Techniques, so you understand the role.
Click here to download Testifying at a Public Hearing