YOUTH GOVERNOR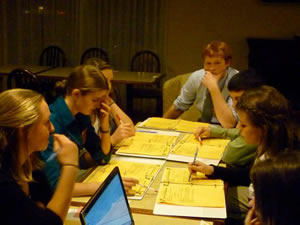 Description of Role
The Youth Governor is the Chief Executive of the Program.

He/She is the only officer elected 1 full year in advance, and serves as the student spokesperson for the program for their year as Governor.

The will have attended the National Youth Governor's Conference.

They will develop a package of bills that they want to see pass, as well as ideas they would like to see defeated.

They must develop this package working within the confines of the budget developed by the cabinet and YMCA Staff.
Responsibilities
Speak to organizations about the Youth in Government program

Attend as many Training Sessions as possible to select Cabinet members

Attend Leadership Training on Thursday afternoon and evening

Contact the Governor of the State of Maine and ask if he/she can address our opening session.

Host the Governor of the State of Maine, or other dignitaries whenever we are honored with their presence.

Hold Friday evening press conference with newspaper staff

Interview the candidates to be able to give a bit of back ground as you introduce them on Saturday.

Deliver a closing address on Sunday's Joint Session
Attend the Leadership Session:
MUST ATTEND LEADERSHIP SESSION, information about the session will be mailed to you prior to the event.
Scripts or additional Information:
THERE ARE NO SCRIPTS OR ADDITIONAL INFORMATION