CHIEF OF STAFF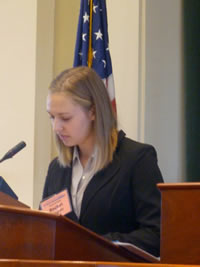 Description of Role
The Chief of Staff will be a member of the Governor's Cabinet.

They will have the special duty of tracking all of the bills submitted in the program.

They will be responsible for keeping updated a chart that will allow all participants to see the results of each bill at all parts of the process.

The Chief of Staff will be responsible for giving a final report on the results of all bills at the closing ceremonies on Sunday morning.
Responsibilities
Collect all bills at the end of Committee Sessions, and record committee actions.
Working with YMCA Staff you will collect all the bills from each committee and report the committee action and update the bill charts.

Work with the Youth Governor in organizing the Cabinet and assigning them tasks throughout the weekend

Work with the Secretary of the Senate and Clerk of the House to record actions from both houses.

As each bill goes through the debate in the House and Senate you will get each bill and record the action on each bill on bill charts.

The Chief of Staff will report the final action on all bills on Sunday morning at the Closing Session.

Serve as a member of Governor's Cabinet.
Attend the Leadership Session:
MUST ATTEND LEADERSHIP SESSION, information about the session will be mailed to you prior to the event.
Scripts or additional Information:
Also go to Lobbyist and review the section on Lobbying Techniques. So you understand the role.
Click here to download Testifying at a Public Hearing